as the Irish say in their native tongue:
"Happy Christmas to you!"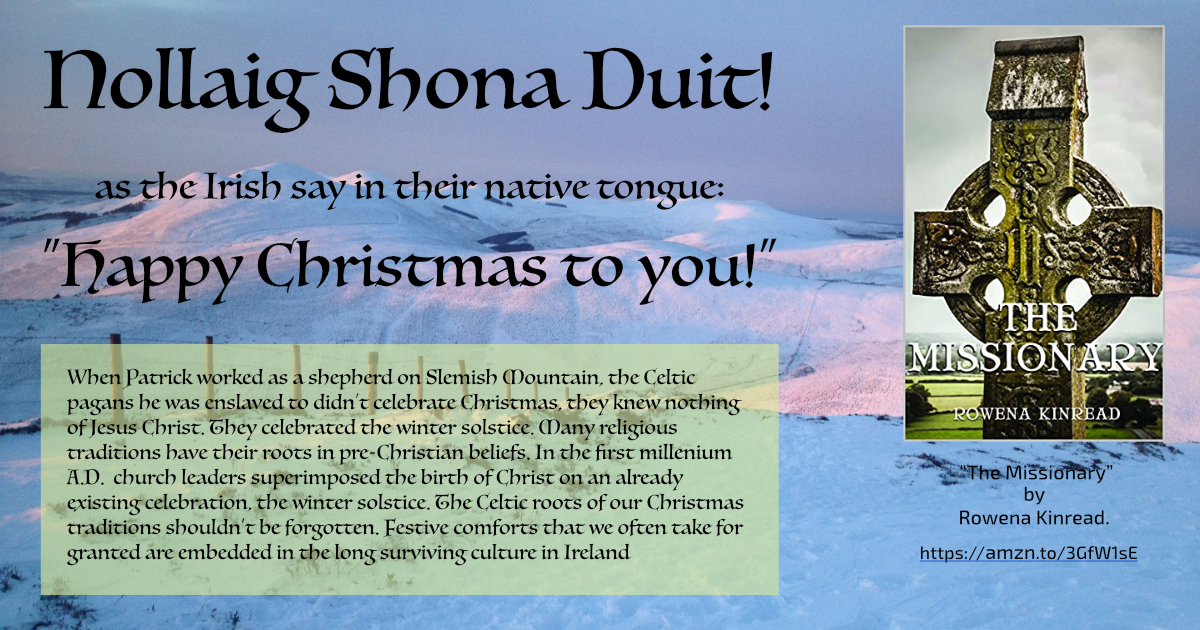 When Patrick worked as a shepherd on Slemish Mountain, the Celtic pagans he was enslaved to, didn't celebrate Christmas. They had many gods, not just One. They celebrated the winter solstice which marks the time when the sun has reached its lowest point on the horizon in the Northern Hemisphere.
Many religious traditions have their roots in pre-Christian beliefs, and Christmas is no exception. Sacred scriptures say nothing definitive about when Jesus was born. It wasn't until the 4th century A.D. that church leaders superimposed the birth of Christ on an already existing celebration, the winter solstice.
The Celtic roots of our Christmas traditions shouldn't be forgotten. Festive comforts that we often take for granted are embedded in the long surviving culture in Ireland.
WREATHS
A garland of holly and other evergreens is displayed on doors of houses throughout the world, however this tradition originated in Ireland. Holly was one of the most flourishing plants at the time, and so allowed the poor to decorate their houses too. All decorations are traditionally taken down on January 6th. It is considered bad luck to take them down beforehand.
MISTLETOE
In the Celtic times, druids observed the festival of Alban Arthan (also known as Yule) at the time of Winter solstice. They gathered mistletoe from oak trees, in an attempt to ward off evil spirits. In Norse mythology, mistletoe symbolised love, and so the tradition of kissing under the mistletoe was born.
YULE LOG
During the twelve days of Yuletide it was tradition for every member of the family to bring a log to add to the fire. This is because the Celts believed that the sun stood still during this time. They believed that a flickering, burning fire for these twelve days would persuade the sun to move and force the days to be longer.
Link zu meinem Buch auf Amazon: https://amzn.to/3GfW1sE
MY FAVOURITE RECIPE FOR MULLED WINE (traditional Irish)
Christmas is a time of comfort and tradition, but many festivities we now know and love actually originate from our pagan past.
'When the North wind does blow, and we shall have snow…'
Well the robin may have hidden his head under his wings, poor thing, but the pagan clan chieftains preferred to drink their favourite beverage.
Ingredients for one Irishman, four Americans or two Americans with Irish roots
Ingredients:
1 magnum of good quality red wine; 1 ½ tsp. freshly ground nutmeg; ½ tsp. ground ginger; ½ tsp. ground cinnamon; 1 tsp. whole allspice; 1 tsp. whole cloves; and 1 cinnamon stick.
Simmer gently in a large saucepan for one hour, being careful not to boil. Strain through a cheesecloth. Serve warm. Sweeten with honey or sugar to taste.
Sláinte!