The Scots of Dalriada by Rowena Kinread
Guest Post - https://viviana-mackade.blog/ - February 27th 2023
Romance is a juicy page turner in any book. Whether a pure romance book or sub-plots in historical-, crime-, or thriller- novels, without a little romance, something crucial is missing, like milk in my coffee for example!
In The Scots of Dalriada, Fergus the MC, meets Rhianna as a fourteen-year-old youngster. He doesn't know at first, who she is. In fact, he believes her to be a boy! At the time he is hiding from his evil half-brother, disguised as a stable boy, in a horse stud at Brodick castle, on the island of Aran. So nobody knows who he is either, in reality Prince of the Dalriada.
Rhianna has her own problems, she is Laird Douglas's daughter, a Scottish princess and has been promised in marriage to Ceredig, king of Strathclyde. He is an obnoxious individual, over sixty-years-old, with the stature of an overgrown toad standing upright.
One day Rhianna, not yet known as such to Fergus, sneaks into the stables to give a horse an apple. Fergus gives the 'boy' chase, leaping over stone walls, running hot-footed across the heather and vaulting a fence; Rhianna nearly escapes until she misjudges the width of a ditch and tumbles over. Fergus lands on top of her, straddling her squirming body. She quickly pulls her tunic back over shoulder but not before Fergus has caught a glimpse of her breast. They do not have time to speak much on this encounter. Fergus is primarily relieved that the apple wasn't poisonous. But from this day on he cannot banish Rhianna from his mind.
Their first romantic encounter is on the day of the horse fair. Fergus climbs up Goat Fell to hide from his half-brother, who has turned up at the fair unexpectantly. Shortly afterwards Rhianna flees there too, in order to avoid being with her future husband. They spend all afternoon together talking and getting to know each other better. Rhianna is desolate that she must marry Ceredig and Fergus tries to console her, constantly putting his foot into it and making everything worse.
As night falls they lie down in the heather together watching the stars, snuggling up to each other to keep warm. Their bodies are taut with tension, emotion overcomes them and they kiss, before Fergus, feeling guilty, breaks away horrified. He knows that he is too young and powerless to stop the marriage.
King Ceredig mishandles Rhianna viciously. He only leaves her in peace when he believes she is with child. They live in Alt Clut, a stronghold at the base of twin rocky pinnacles, domineering the right side of the promontory where the river Leven joins the Clyde. It is a formidable stone fortress, fronted by a wall of rock boulders to protect it from the rage of winter storms. A flight of steps leads up to a gatehouse, set in the crevice between the twin peaks. It is indomitable.
Rhianna fears for her life and is desperate to flee from her husband. She wishes he had run away while she'd had the chance on Aran. She remembers Fergus' kiss on Goat Fell. It had been soft and tender, she would like to kiss him again.
Despite his exciting and prosperous ventures with family and trusted friends, Fergus cannot dismiss Rhianna from his thoughts. Against his will he realises that he has fallen hopelessly in love with an unobtainable woman.
Together with friends and a cleverly devised plan, Rhianna and Fergus attempt the impossible, a simulated death and flight to freedom.
I do not wish to spoil this book for you, so I will stop here and recommend you delve into the story of Rhianna and Fergus yourselves.
The Scots of Dalriada by Rowena Kinread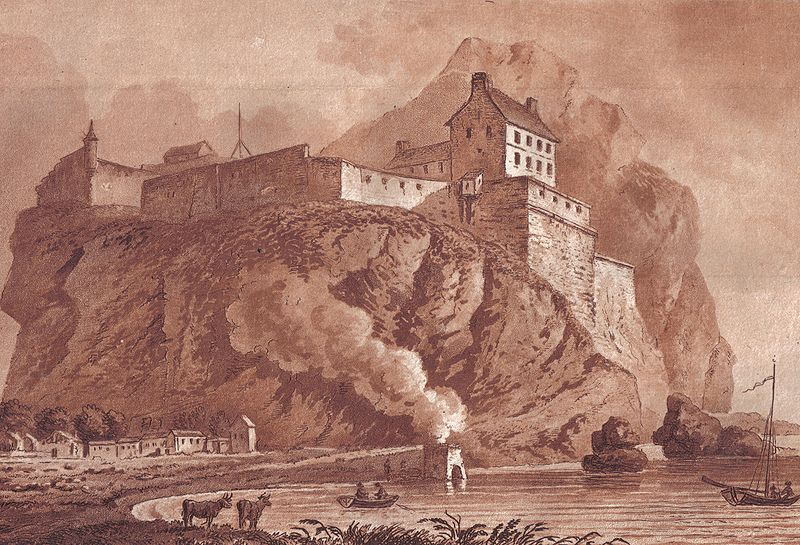 https://en.wikipedia.org/wiki/File:Dumbarton_castle_and_lime_kiln.jpg
Alt Clut also known as Dumbarton castle in 1800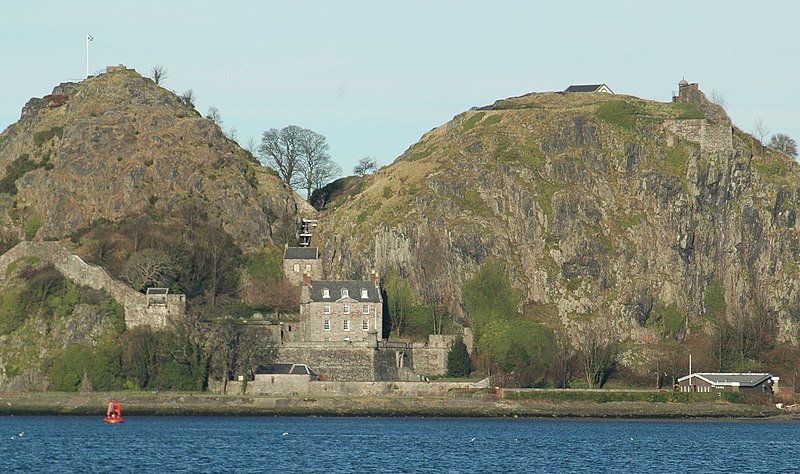 https://en.wikipedia.org/wiki/File:Scotland_Dumbarton_Castle_bordercropped.jpg
Alt Clut today